In september 2016, a special issue of the Revue française de sociologie on the internationalization of scientific research has been released. This special issue has been coordinated by Michel Dubois, Yves Gingras and Claude Rosental.
To mark this occasion, a roundtable discussion bringing together several contributors to the issue has been organized at EHESS in Paris in October 2016.
Michel Grossetti and Marion Maisonobe came to discuss their article « L'évolution mondiale des réseaux de collaborations scientifiques entre villes : des échelles multiples » co-signed with Denis Eckert, Laurent Jégou and Béatrice Milard.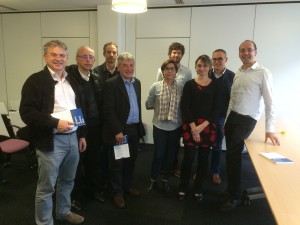 Picture of the speakers and organizers, from left to right: Pierre-Benoît Joly, Vincent Simoulin, Morgan Jouvenet, Michel Grossetti, Christelle Germain, Thibaut Boncourt, Marion Maisonobe, Louis-André Vallet and Claude Rosental.